Posted by Dan Wheeler
The Floating World Animation Fest 2009 is Tonight!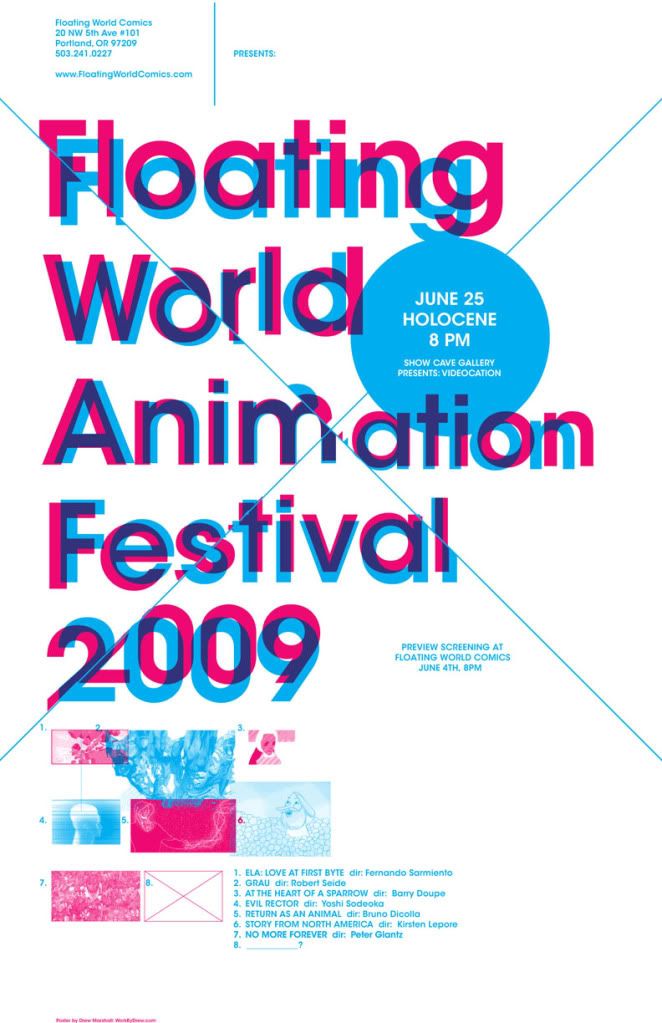 Watch this, then we'll talk….
Not satisfied with being a truly freaking awesome comic shop, Floating World Comics presents (for the third year running) a carefully curated program of short animation that promises to range from the experimental to the plainly mental. A highlight of the program is David O'Reilly's beautiful and strange Please Say Something, winner of the prestigious Golden Bear award for best short this year in Berlin. Remember Octocat? Yup, same dude. But this film feels more like Jimmy Corrigan, Smartest Kid on Earth meets Blade Runner to surprisingly touching effect.
Here's a challenge: this is a direct link to a full length, high res video of Please Say Something. Do NOT watch it. Wait until tonight and come and watch it with me. I'll be wearing a t-shirt of my favorite animator Don Herzfeldt. I've got a DVD of short animation that I bought at Floating World on a whim and it's pretty decent stuff. You find me and it's yours. You're WELCOME.
Floating World Animation Fest 2009
Thursday June, 25
8 pm
$7
Holocene
1001 SE Morrison St
(503) 239-7639