From our sponsors: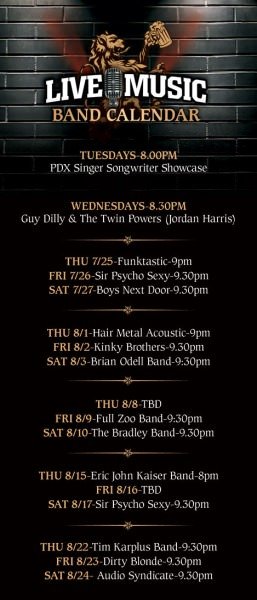 Live Music at Thirsty Lion
July 30-August 3, 2013
More info: thirstylionpub.com
Thirsty Lion
71 SW 2nd Ave Portland, OR 97204
(503) 222-2155 | More Info: www.thirstylionpub.com
Tue 7/30: 8pm
PDX Singer Songwriter Showcase
Portland's best singer songwriters showcase their skills every Tuesday night at the Thirsty Lion Downtown, stop by for great beer, food and music! Our finals show will be on Tuesday, September 3rd! Check out some of Portland's best singer songwriters!
Wed 7/31: 8:30pm
Guy Dilly & the Twin Powers (aka Jordan Harris)
Imagine if John Mayer, Queen, and Neon Trees sat down and had a jam session. Guy Dilly & The Powers bring all that and more every Wednesday night at the Thirsty Lion.
Thu 8/1: 8:30pm
Hair Metal
Break out your spandex, leg warmers, and miniskirts and come down to the Thirsty Lion for an 80′s Hair Metal Acoustic Performance by Hair Assault. Performing some of the greatest 80′s rock songs and ballads from bands like Guns & Roses, Motley Cruë, Bon Jovi, and many more!
Fri 8/2: 9:30pm
Kinky Brothers
The Kinky Brothers have one goal: To make YOU dance! From whiskey drinking, face melting Rock and Roll to smokey, soulful Hip-Hop and every funking thing in between, every Kinky Brothers show is unique and fresh, while staying true to one core value: Let's Party!
Sat 8/3: 9:30pm
Brian O'Dell Band
By mixing the tried and true formula of the singer/songwriter with infectious drum rhythms, funky yet melodic bass lines and the fresh flavor of turntables, steel drum and percussion, The Brian Odell Band is in a genre all its own. You're sure to find something you love about the sound and style of a band that is truly unique in the Portland music scene.