We are giving away a pair of tickets to Hem @ Aladdin Theater on Tuesday, September 17. To win, comment on this post why you'd like to attend. Winner will be drawn and emailed Monday, September 16.
FREE PORTLAND: We give out 100s of $$$ in free tickets every week including to many of the top music and art venues in Portland. Join our newsletter if you like free stuff
———————————————
From our sponsors: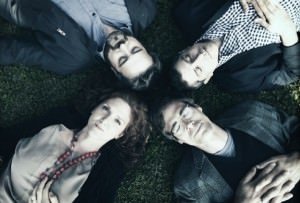 Hem
September 17, 2013
7 p.m. Doors, 8 p.m. Show | $22 ADV/$25 Doors | Under 21 permitted w/ parent or legal guardian
Tickets: aladdin-theater.com
Aladdin Theater
3017 SE Milwaukie Ave Portland, OR 97202
(503) 234-9694
The jack pine doesn't yield its seed willingly. Seasons can come and go and years—even decades—can pass, and the seeds remain locked in the cones. There is only one catalyst for this unusual tree to reproduce: fire. As flames rise to the tree's crown, the cones open, bringing forth the seeds of new life. It's a striking image, one that formed the basis of "The Jack Pine," a song that is representative of Hem's extravagantly bittersweet five-years-in-the-making album, Departure and Farewell. It's also a perfect summation of this unusual chapter in the band's life, which started as a breakup before becoming a rebirth—a point lost on none of the members.
"The metaphor of fire, burning everything to the ground for something to be reborn, was a powerful one," notes guitarist/vocalist Steve Curtis, who originally wrote the song to mark the dissolution of his 15-year marriage. "But it proved to be prescient, not just foreshadowing the themes of the album but the things that were yet to come for us all." Like a tall pine with the flames encroaching, the members of Hem believed—with varying degrees of certainty—that this album would be its swan song. "The original idea for the album was that we wanted to wrap everything up in a nice bow," says Dan Messé, the band's keyboardist and chief songwriter. "And a lot of the early songwriting was about that."
The stage was certainly set for the band to go out on a high note. By 2007, Hem had recorded three well-received albums—along with a B-sides-and-rarities disc plus a handful of EPs—and had been rewarded with a dedicated following. Its songs, graced with the unmistakable voice of Sally Ellyson, had begun soundtracking an entire long-running ad campaign for Liberty Mutual.
For a band that's always thrived on being able to hire extra players—including entire orchestras—to realize its grandiose sonic visions of lushly arranged Americana, the time of prosperity brought new possibilities. "We spent a lot of time with Greg Pliska, the orchestrator," recalls Gary Maurer, a guitarist who's always acted as Hem's in-house producer. "Dan always has specific ideas where the orchestra is concerned, and we really executed them. We had the money this time to work with really big groups. We'd have as many as 30 people in the room all at one time overdubbing to the basic tracks." On top of that, the band was invited to write the score for the Shakespeare-in-the-park musical version of Twelfth Night, starring Anne Hathaway and Audra McDonald, performed in New York's open-air Delacorte Theater in summer 2009. Curtis even ended up onstage as a member of the musical ensemble. Despite Ellyson's absence from the project, an album of musical highlights bore the Hem name.
Dawn Landes
"Studios showed her how hard the business is. She continued to write and perform, but she also learned how to engineer and produce… And then, as the female singer/songwriter Bible dictates, she went to Paris. Where, according to that same Bible, she got her first contract and made her first CD."
- HUFFINGTON POST profile on Dawn Landes
Kentucky born Dawn Landes first traveled to Paris to perform in the Les Femmes s'en Mêlent festival as a 22 year old songwriter. Her hand-made cds caught the attention of indie label Ocean Music who released her first album "Dawns Music" in France in 2005. She toured the country for the next few years, not speaking a word of French. Picking up bits of slang from the musicians she met on the road, Landes started to learn the songs of French greats Serge Gainsbourg, Francoise Hardy and Georges Brassens.
When Paris-based label Fargo released her second album "Fireproof" in 2008, it was praised by the European press and she appeared on many French radio programs, touring the French countryside with artists such as Feist and Andrew Bird. Shortly after, Landes moved from New York to Paris into a little flat near Parc Georges Brassens. One morning she found herself at an antique book fair in the park and discovered a picture book with a 45″ vinyl record titled "George Brassens Chante Pour Les Enfants" (George Brassens Sings for Children). The songbook inspired her to write the first song on this album "Mal Habillée" (Badly Dressed) in nursery rhyme style: part sweet, part sinister.